MidCoast Maine is a popular destination for many reasons. Sweeping ocean views, beautiful summers, and New England cuisine are just a few reasons to fall in love. And, if you want to make the most of it all, always remember to eat local. Fresh-catch lobster, farm and fin to table, prime steaks, and Maine-made craft beer are part of the authentic Maine dining experience.
In addition to the terrific food scene on the MidCoast, nearby Portland, is a nationally recognized foodie destination. Here are some great options for dining during your trip that includes Portland – these are places we go when we get the chance to get off the island! To keep on what's happening in the Portland area, we recommend you follow The Portland Food Map.
To make your culinary getaway even more special, remember to take advantage of our Stay & Dine Package at Grey Havens Inn. Enjoy dinner at our award-winning New England restaurant, BLUE, and complimentary breakfast.
The Must-Visit List
1. Central Provisions | Portland
Central Provisions is one of our favorite places to dine in Portland. Here, you can enjoy a variety of small plates and tapas in a sophisticated, yet rustic setting. For a quick en-route lunch to Grey Havens Inn, grab a seat at the bar. Or, settle in at a table for leisurely dinner with wine and dessert. 
2. Leeward | Portland
Leeward is focused on refined small and large plate handmade pasta featuring seasonal ingredients. The team has deep experience in Portland, having worked at Eventide and the Drifter's Wife prior to opening this fine new place. Truly a little treasure. Leeward is a 2022 James Beard Award semi-finalist for Best New Restaurant (3/22). Open for dinner.
3. Fore Street | Portland
Considered by many to be the restaurant that put Portland on the map, Fore Street has been delighting diners since 1996, Executive Chef Sam Hayward and his team craft modern classics using locally sourced proteins and vegetables. An open wood-fired grill and a wood-fired oven is used for many dishes. The restaurant has won numerous awards over its lifetime and continues to deliver the 'wow' today. Open for dinner.
4. Duckfat | Portland
I am always tickled when I think that I ate at this legend before the masses discovered it! Duckfat is a delightful little spot to get your french fry on. Fried in duckfat, their thick fries are accompanied by a variety of dippers – note that the truffle ketchup is a must! Poutine topped with duck gravy, panini, doughnuts, and their epic milkshakes are top trys, and yo, they have soup and salad too to keep everyone in your group happy. Lunch and dinner.
5. Eventide | Portland
Rounding out this Portland five-to-try, is Eventide, an oyster-focused spot dedicated to the freshest and brightest lights of the local waters. Here you can try oysters from all over Maine, including our island's Robinhood Cove oysters (they are the best, mind you!). In addition to oysters, there are a delightful assortment of seafood dishes and a great cocktail list. Open for lunch and dinner.
and, in Georgetown…
6. Five Islands Lobster Company | Georgetown
If you are searching for one of the best lobster rolls in Maine, then Five Islands Lobster is where you can find it. The atmosphere offers a relaxed and authentic Maine Coast atmosphere with views of the sparkling harbor. Ordering your meal, pick out your lobster, and then visit the Five Islands Fuel next door to buy a cold beer to enjoy at your picnic table. (For more recommendations on where to enjoy lobster lunch and dinner, read our blog on Maine lobster shacks.) Open for lunch and dinner.
7. BLUE | Georgetown
Dine with us and/or stay with us! Our restaurant, BLUE, features classic New England cuisine with modern flair. Learn more about our restaurant and view our menu. Open for dinner.
Your New England Getaway Awaits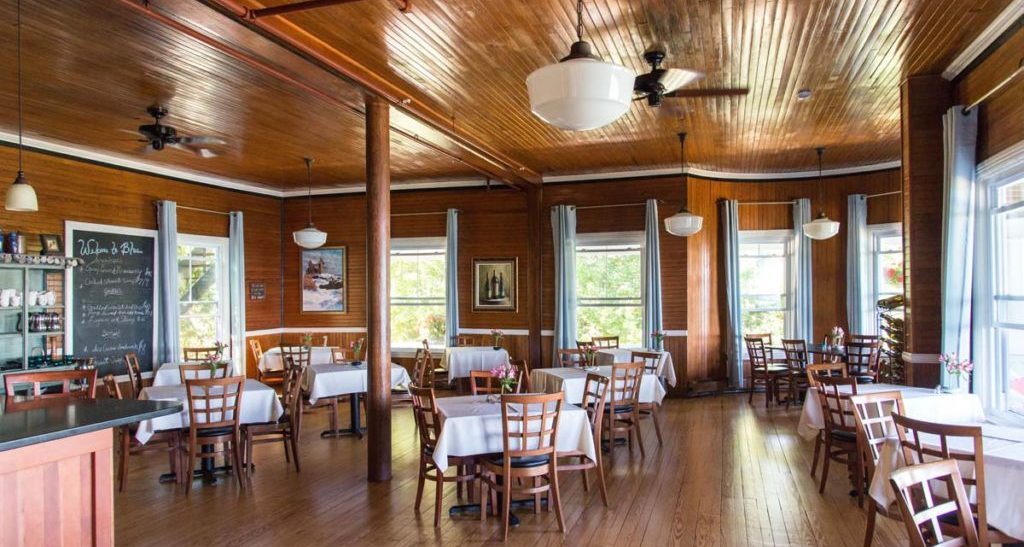 After getting a taste of Maine at the restaurants in the Portland area, head home to our beautiful waterfront inn on Harmon's Harbor. Relax on our wrap-around porch with your favorite book and enjoy views of the sparkling water. Or, join us for cocktails and dinner at our signature restaurant, Blue. However you choose to spend your time, you can always look forward to the best amenities, vacation specials, and spectacular service at Grey Havens Inn. Complimentary breakfast is always included in your stay.
Our Georgetown, Maine, inn is open from early May through late October. If you are ready to plan your getaway, check our availability. We hope to see you soon!