Georgetown is an island, and it's great to have the opportunity to get out on the water to see the sights and relax. Luckily, there are great scenic boat & fishing charters and kayak rental options right here on the island and nearby that are easily accessible from Grey Havens Inn.
On Georgetown Island
Five Islands Boat Tours – Step aboard the Gratitude, Captain Cal Stevens' and Captain Katrina Raymond's 32' Holland and enjoy a private 2, 4, or 8 hour cruise on a traditional Maine-built, Downeast-style lobster boat. When not touring, this 2017
custom-built boat is lobstering or tuna fishing! You can even take a trip out for a lobstering demonstration – so much fun!
Captains Cal & Katrina have special customizable private packages just for Grey Havens Inn guests! You'll be picked up right at our dock for a day of exploring the local coastline and fun on the ocean.
Learn more about Five Islands Boat Tours' special packages for Grey Havens Inn guests.
Five I Fuel & Harborside General Store – This little local store offers kayaks for rent by the hour. A paddle around the harbor is a great way to see Maldon Island, the working boats, and wave to the folks eating at the Five Islands Lobster pound.  To reserve, call (207) 371-2552 or contact them by email using their contact form: https://www.fiveifuel-harborside.com/contact
Seaspray Kayaking & Paddleboarding @ PaddleMaine  (approx. 8.2 mi to Knubble Bay – from the inn / 21.4 mi to Brunswick ) – Rentals of kayaks; sea kayaks, paddleboards, fishing kayaks, sit-on-tops, and canoes; daily tours with a variety of lengths available; and lessons available. Their rental rates include free delivery to the Knubble Bay. Tours and lessons are with Registered Maine Guides.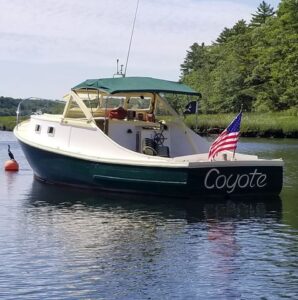 Wooden Boat Tours (6.4 mi from the inn) – Join Captain Jonathan on the vintage wooden boat Coyote and cruise the Back River and Kennebec River and beyond. Tours run out of the Back River Boatyard at the top of Georgetown Island.
Nearby with Potential Grey Havens Inn Pickup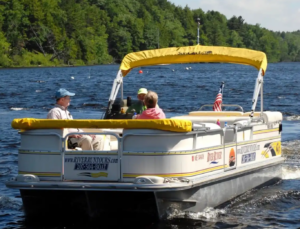 River Run Tours  (11 mi from the inn) – Based in Bath, Maine, River Run Tours' Captains Gary, Clint, and Ken are ready to offer you scenic views of the area from the comfort of one of their pontoon boats. Tours run out of Bath by appointment with a maximum of 6 passengers. Trips include cruising over to Boothbay Harbor, along the rivers, and if the sea conditions are good, a run out to Seguin Island to view the Seguin Light Station from the water. Pick up at Grey Havens Inn is available for an additional fee.
Further Afield in the MidCoast
New Meadows Marina (14.9 mi from the inn) – The New Meadows Marina has several boats available for rent by the day or week.
L.L. Bean's Outdoor Discovery Program (32 mi from the inn) runs a variety of watersports tours and lessons out of its Freeport location.
Alice's Awesome Adventures – Alice Bean Andrenyak is a Master Maine Guide offering custom private (individuals and small groups) instruction sea kayaking, canoeing, and more. She's based in Brunswick but trips occur around the Midcoast. VIsit her site to learn more.
MidCoast Kayak  (28 mi from the inn) – Midcoast Kayak is located in downtown Damariscaotta and offers a variety of water-sports opportunities in  Muscongus Bay and the Damariscotta River. Tours; rentals & sales of kayaks paddleboards, and canoes and equipment; lessons; deliveries; and camping trips  are all available. Tours and lessons led by Registered Maine Guides.
Maine Kayak (40.6 mi from the inn) – Tours, lessons, rentals, and camping trips out of New Harbor, Maine are available form Maine Kayak. Kayaks and paddleboards are available to rent. Two-hour to multi-day trips are on their schedule!
Fishing Charters
Obsession Sportfishing Charters – fishing charters, obsessioncharters.com, 207-841-1444, dave@obsessioncharters.com
Maine Experience Guide Service – fishing & scenic charters, maineexperienceguideservice.com, 207-215-3828, maineexperience@yahoo.com
Gillies & Fallon Guide Service – fishing charters, 207-552-9900, pfallon@mainestrippers.com
Marsh River Charters – fishing charters, marshrivercharters.com, 207-882-4086, deruiter58@comcast.net
Up 'n at Em! – fishing charters, upnatemmaine.com, 207-232-1702
Great Gadzooks, fishing charters, greatgadzooks.com, 207-720-0857
Superfly Charters – fishing charters, superfly-charters.com, 207-542-3134
Saltworthy Charters – fishing charters, 207-380-9839
Five Islands Boat Tours Packages for Grey Havens Inn Guests
Let Cal & Katrina help you plan your trip! Take advantage of their knowledge of the local coastline to show Maine from the beautiful custom built 32' Holland Lobster Boat. The Downeast lobster boat, Gratitude, can accommodate up to 6 guests for completely customizable private tours, charters or taxi. Note that for wedding parties: "6 guests" does not include a photographer. We can accommodate up to 2 photographers/staff, in addition to the paying guests.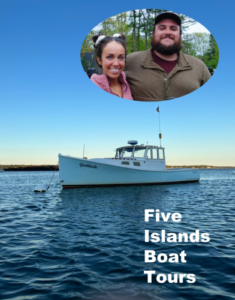 Grey Haven's guests enjoy special discounted rates on these packages:
2 Hour Private charter $685 (1-6 guests)
$185 per additional hour
4 Hour Half day private charter $1,000.00
8 Hour Full day private charter $2,050.00 Spend a day packed full of adventure and fine dining! Examples include a morning pick up at the Grey Havens Inn dock, lunch at Five Islands Lobster Company at Five Islands Wharf, the afternoon spent at Seguin Lighthouse (open lighthouse and museum tours available daily with the summer time lighthouse keepers –  an amazing spot for photography and memories (please check their website for more details- seguinislands.org), then say hi with a close-up view of seagulls basking on the rocks on your gorgeous cruise over to Boothbay Harbor for dinner and drinks, and finally, enjoy a sunset ride back to Grey Haven's to end the evening.
Contact us today to plan your cruise!