Grey Havens Inn is located within easy driving distance to a great number of Maine's coastal museums.  You have a lot of choices and your selections will depend on your interests. Here are some of our favorites. If you need help choosing or developing a custom itinerary, contact us for help planning your perfect getaway.
At the bottom of this page is a map showing all the museum locations!
Be sure to check each place's open hours – they'll vary depending on season!
Bath, Maine (12 miles)
The Maine Maritime Museum is located just outside of Downtown Bath and offers an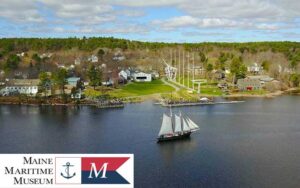 abundance of ways to explore the region's maritime culture and past. A very modern, curated museum, here you'll see fascinating artifacts, interactive exhibits, a historic shipyard with original 19th-century buildings, and New England's largest sculpture – a replica of Wyoming, the biggest wooden sailing vessel ever built. You can also take boat tours to view lighthouses and more from the museum. A must visit.
Maine's First Ship, the Virginia – Right in downtown, you can experience Maine's First Ship, the Virginia, at the Bath Freight Shed. The ship is a reconstruction of the 1607 pinnace Virginia, and after years of construction, she's due to launch in June 2022. Learn more about the ship, how to visit, and upcoming events on the organization's website.
Brunswick (21 Miles)
The Bowdoin College Museum of Art's collection is global in reach and transhistorical in scope with more than 25,000 objects created over 5,000 years. Exhibitions change frequently and the museum is free to visit.
Joshua Chamberlain House – The home for more than 50 years of Joshua Chamberlain, a hero of the American Civil War and later 4-term governor of Maine and a president of Bowdoin College. This museum explores his life and legacy.
Harriet Beecher Stowe House – Now owned by Bowdoin College, a space in this house
is sometimes open for viewing and you can tour by the outside from the street. It was here, during her stay in Brunswick, that Stowe, wrote Uncle John's Cabin, and sheltered, John Andrew Jackson, a fugitive from slavery. The building houses faculty offices and "Harriet's Writing Room," a public space commemorating Stowe's contributions to American literature and history. The building is a National Historic Landmark and a National Underground Railroad Network to Freedom site.
Brunswick Naval Aviation Museum – The former Naval Air Station in Brunswick was a strategically important base during World War II, Vietnam War, and the Cold War and the museum preserves the history and tells the story of those who served at the base. Here you can experience 65 years of maritime patrol aviation (sub hunting!)
Wiscasset (21 miles)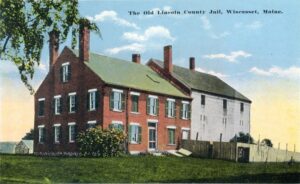 NIckels Sortwell House – Part of the Historic New England collection of properties, this house is one of New England's finest Federal-style houses and a National Historic Landmark. Built as an expression of a shipping magnate's wealth & status, the house tells the story of changing fortunes, as the wealthy family became poor and the house was turned into a tavern and hotel and later was restored in the Colonial Revival style.
Castle Tucker – A very imposing house that tells the story of multiple generations of a single family of wealth. Three generations of family possessions are on view at this architectural gem.
Wiscasset Old Jail – Dating to 1811, this is one of the oldest jails in New England and it's a dramatic building attached to a Jailor's House, creating a dissonant visual effect. Exhibits include over 100 year-old graffiti.
Alna (29 miles)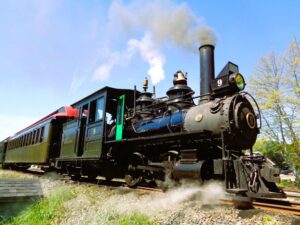 Wiscasset, Waterville, & Farmington Railway – open Saturdays and other special days
seasonally (check their calendar), the railway museum celebrates Maine's Sheepscot Valley narrow gauge rail history. Historic steam train rides, shops (the construction kind) for exploring, and ticket office gift shop await you. Stop at Oxbow Brewing for a beer and a snack afterwards.
Rockland (54 miles)
Farnsworth Museum – With over 15,000 works and 20,000 square feet of gallery space, this museum celebrates Maine's art history. This museum features the work of three generations of the Wyeths, N.C., Andrew, and Jamie. The Farnsworth includes access to the Olsen House, a MidCoast treasure, you'll know it from Andrew Wyeth's work, Christina's World, at a minimum.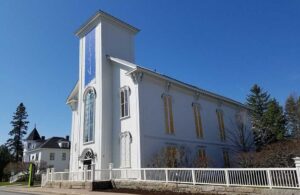 The Center for Maine Contemporary Art supports and exhibits art and
artists with ties to Maine and is the state's preeminent contemporary arts organization. Exhibitions change frequently.
Maine Lighthouse Museum – This museum features a massive collection of lighthouse artifacts and mementos. Exhibits include a focus on the United States Coast Guard and United States Life Saving Services, and female lightkeepers.
Portland (46 miles)
Portland Museum of Art features a large, delightful permanent collection of American, European, and Contemporary art, and stages exciting modern exhibitions. As you might expect, Maine-based artists and Maine subject pieces are a focus of the collection. Tours of the Winslow Homer Studio are led by the museum.
Victoria Mansion, also known as the Morse-Libby House, is and is widely considered one of the finest examples of the Italian Villa style in America.
With superb architecture and well-preserved original interiors that were among the most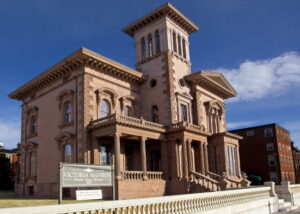 modern, most luxuriously appointed of the time, the elegant house is truly over the top. Over 90% of the original interiors, including almost all of the original wall paintings by the Italian-born artist Giuseppe Guidicini, a master of the trompe l'oeil ("fool the eye") style are intact. Open as a museum since 1941, you can marvel at the decadence and also consider how the fortune that built this palatial house was made. Modern story-telling and historic artifacts combine to tell a story of America.
Maine Narrow Gauge Railroad Co. & Museum -preserves and operates two-foot gauge railway equipment -take a scenic train ride along Casco Bay or explore the museum which features historic rail cars and other exhibits. A must for the "foamer" in your family (if you know, you know!)
Tate House Museum – the only pre-revolutionary war house open to the public in the greater Portland area, the museum offers a view into 18th century life in Colonial Maine through its period furnishings, architecture, and grounds and gardens. A lovely place.
Map of Museums Near Georgetown Mentioned in this Story