Rare Bird Delivers Birders in Droves to the Inn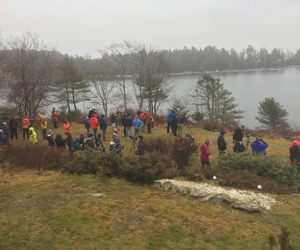 To ring in the new year 2022, an exciting bird arrived in Georgetown and took up residence for a time on Wood Island in full view of Grey Havens Inn. This bird, a  Steller's Sea Eagle, a very rare species of northeastern Asian origin (only 4000 left) is on a long off-course long journey across the United States. The non-native bird has never been seen in the United States before this bird's arrival earlier in 2021.
Word of the bird spread quickly, and within a day or so hundreds of avid birders flocked to Georgetown with their cameras and scopes to get a glimpse! The eagle perched at the top of the tall pines on the island, zoomed around the Five Islands Wharf and surrounds, chased bald eagles with vigor, and gave a show to birders at the inn, swooping over the crowd!
Around January 4/5 the eagle moved to the Boothbay harbor, thrilling birders over thattaway. Where will it go? Follow the bird with Maine Audubon.
Grey Havens Inn was thrilled (and chilled, on a cold Sunday during which that bird sat in a tree for four hours or more before getting airborne!) to have birders set up camp on our grounds to view the eagle.
Coverage of the Steller's Sea Eagle's Visit to Grey Havens Inn & Georgetown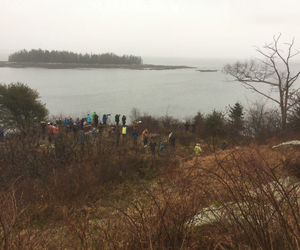 Learn About the Steller's Sea Eagle
If you'd like to learn more about the Steller's Sea Eagle here are some sources to get you started:
Grey Havens Inn is a great place to do some birding. Annual migrations in May and October occur during our open season and we invite you to stay with us on your next bird adventure! Book your stay today!