Featured Artists
George Baker - BLUE HOUR
In 2023, the Inn is featuring works by George Baker in our restaurant, salon, lobby, and second-floor hall for your enjoyment. Many of these pieces are available for purchase.
George was our neighbor here in Georgetown, and we are saddened by his loss this past winter. We are honored that the family has agreed to show so many of his works with us. We hope you will stop in and view his work and be inspired by it.
Artist Statement
"Blue Hour" honors the late local painter George William Baker II (1948-2023), of Georgetown.
One of George's greatest pleasures in life was rising early in the morning, quietly making his favorite cup of coffee, and waiting on his deck to greet the early dawn light in the blue hour.
George was a gifted painter in oils for over 45 years. He had no formal training in art for most of his life, but his interests in the fine arts led him to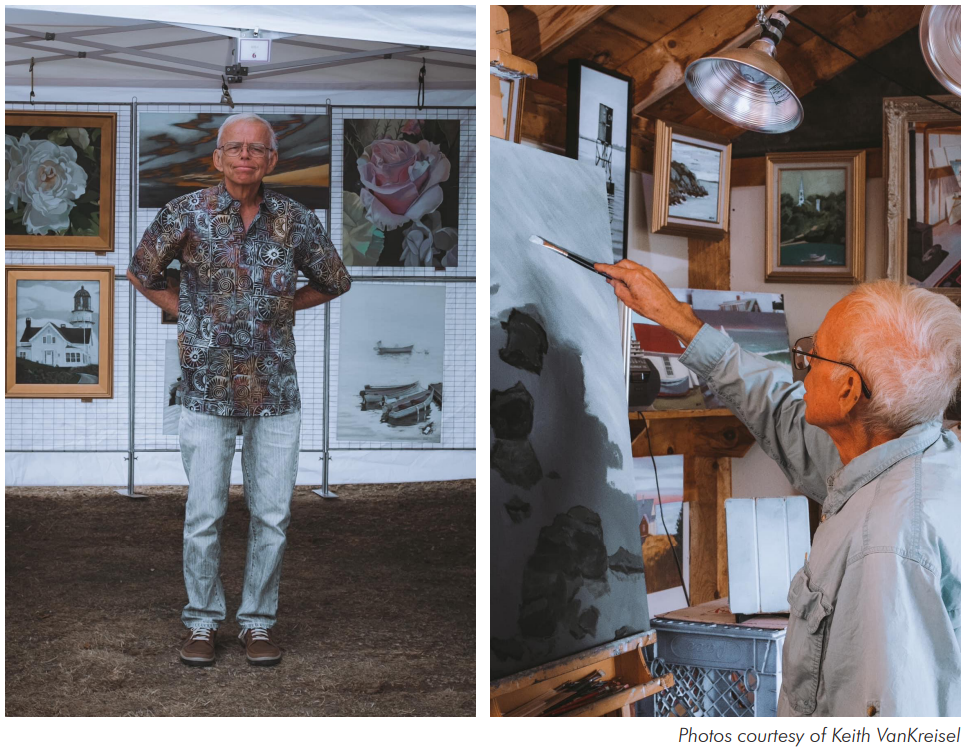 study the works of Picasso, Fragonard, Mary Cassatt and many others. In his teen and college years, George would practice replicating these great works as his technical foundation in art and painting.
George was first inspired by his father George William Baker I of Cape Elizabeth, a recreational painter and avid tinkerer who continued to paint until the age of 95. The artist Winslow Homer was another early inspiration. George long admired the Impressionist and Realist artistic movements, and these influences emerge in his work.
Composition and color are two important considerations in George's work. His paintings also exhibit a range of styles: from the loose impressionistic strokes in his plein air paintings to the precise, smooth renderings of his studio pieces.
George was an avid traveler during his life, and painted in such diverse locations as: Provence, Paris, Brazil, and Iraq. Above all, he most enjoyed returning to his Maine roots and painting on Monhegan Island and in the coastal areas around Georgetown.
George expressed the extraordinary in the ordinary, often painting landscapes and seascapes around his home next to the Grey Havens Inn. George would say that no matter how many times he painted the same view, every day offered a new perspective and a new painting.
George Baker was born in Portland and raised in Cape Elizabeth, Maine. He graduated from the University of Maine at Orono with a BA in Political Science. After a tour in the Peace Corps in Colombia, he attended and received a MA Degree in Political Science from the University of Tennessee. He then spent the next 46 years in Federal Service in both domestic and international assignments. He has two grown children; a son who is an artist, and a daughter who is an architect. George lived in Georgetown, Maine and Burke, Virginia.