Visiting Grey Havens Inn by Boat
We welcome seafaring visitors by reservation!
For our INN and BLUE restaurant guests arriving by water we have limited complimentary dockage/moorage available and non-inn guests may overnight for a fee.The inn has two locations available for boaters. In season, we are in high demand so we recommend you call and reserve your spot. Read on to learn about the available locations and fees.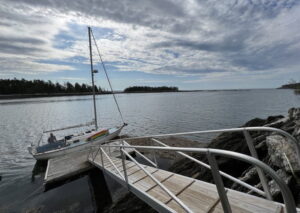 Available Locations:
Note: There are no lines or tenders available; please bring your own. There are no electrical or water hookups.
The Dock – The inn has a small dock suitable for up to a 24 foot boat. The Inn is located some 60 feet above the waterline and is accessible by a natural, unimproved footpath up the hill. It is not appropriate for those that have mobility issues.
Note: We seek to ensure the dock is available to reserved boaters, but the dock is not visible from the inn and interlopers happen! That's boating life!
The Mooring – One mooring ball is available in Harmon's Harbor. The 1500 lb rock makes this mooring appropriate for a boat of up to 30 feet. In good weather, a larger boat may tie up here but the captain should be aware of the situation at all times.
Cost:
Dining at the Inn – If you are dining at the Inn, there is no cost for using our facilities while you are enjoying dinner (no overnights).
Staying at the inn – If you are staying at the inn, you may use the dock or mooring at no cost.
Overnight mooring (non-inn guest) – If you are mooring overnight and not staying at the inn, there is a $2 per foot fee. Please call the inn to arrange payment.