Meet The Innkeepers
---
Eve and Dick Roesler are no strangers to the world of innkeeping. It all started when they first met and asked: "what are we going to do with the rest of our lives?" As it turned out, the answer for both was they wanted to become innkeepers. Once engaged, they went in search of the perfect spot and found it on the coast of Maine. Located on idyllic Cape Porpoise Harbor, the Inn at Harbor Head convinced them to leave the corporate world and hone their innkeeping skills. They owned and operated this lovely five room B & B for ten years and then sold it as a private home. At first, Eve thought that after a busy and very successful ten years, she was done with innkeeping. However, after a few years of catching her breath and relaxing, she and Dick both realized just how much they missed the Inn business, the water, and all of their guests. So the search began again for the perfect spot.  After a brief search, they purchased Grey Havens Inn on the rocky shores of Maine.
After several months of renovation, Grey Havens had been completely transformed and a restaurant and bar called "Blue" has been added to the property. Now guests can enjoy delicious meals and cocktails in a wonderful setting overlooking spectacular ocean views.
Eve, Dick and the entire Grey Havens family think there isn't a prettier spot on the coast of Maine! Come join us and see for yourself.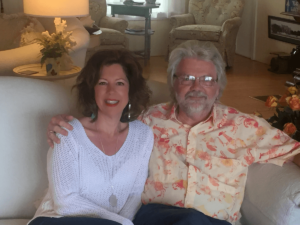 Owners, Richard and Eve
---