With hundreds of miles of shoreline and breathtaking scenery, the Coast of Maine has beauty unmatched by other destinations. All four seasons are celebrated in Coastal Maine, meaning any time is a great time to visit. Each season brings its own unique appeal, weather, and wonderful events. Discover the best annual events near Georgetown, Maine, below and begin planning the ultimate trip.
As you research annual events near Georgetown, Maine, be sure to take a look at our complimentary Vacation Guide. In addition to the events below, discover annual events in Bath, Maine, and other nearby areas. You'll also find dozens of activities and attractions along the Maine Coast including restaurants, shops, and entertainment.
Top 16 Annual Events Near Georgetown, Maine
Spring Events
Spring is a refreshing time on the Coast of Maine, full of renewal and regrowth. Flowers begin to blossom and temperatures start to warm. Traveling to Maine in the spring is a great time to enjoy a peaceful getaway before the summer rush. Plus, you can catch some of the year's best events:
Summer Events
Summer is undeniably the most popular season on the Maine Coast. With beautiful, sunny weather, sandy beaches, and plenty of fun events, Georgetown is an unbeatable summer vacation destination. The season begins with a grand sailing parade and concludes with a fun food, art, and music festival. Here are our favorite events near Georgetown to enjoy throughout summertime:
Fall Events
Fall is often a favorite season of locals due to less crowds, spectacular changing colors, and fabulous festivals. As the weather becomes cooler and the nights grow longer, celebrate the cozy season with trips to the farmer's market in Kennebunk or at a food festival in Portland. Here are some of the best Autumn events near Georgetown, Maine:    
Winter Events
Winter by the sea is an unforgettable experience. Sparkling snow covers the beaches, providing a stunning and peaceful scenery. The Maine Coast is the perfect place to get excited for the holiday season and enjoy festive celebrations. In February, visitors are drawn to the area to experience the Camden Snow Bowl, one of the few places in the country where alpine skiing meets ocean views. Whether you're visiting before or after the holidays, these events are sure to bring you joy:
Where to Stay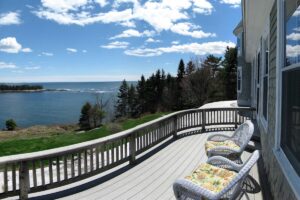 If you're looking for the best place to stay while attending one of the annual events near Georgetown, Maine, look no further than Grey Havens Inn. Our Maine waterfront hotel features panoramic ocean views, spacious guest rooms, and an award-winning onsite restaurant. Enjoy all of this while being just minutes away from the best Coastal Maine activities and attractions.
Check the availability of our accommodations during the event you'd wish to attend and book your stay today. We look forward to hosting you for an unforgettable Maine Coast getaway.