Just a scenic 20-minute drive from Grey Havens Inn, you'll find the seafaring city of Bath, Maine. Home to one of the top museums in the world, excellent shopping, a world-class performance center, two incredible beaches, and more, Bath is a must-visit on your next New England vacation. Along with strolling the streets of Downtown Bath, Maine, here are the top things to do in the area.
Downtown Bath, Maine, is just one of many fabulous places worth a visit in the area. For the most extensive list of things to do on the Maine Coast, access our free Destination Guide. We've included recommendations on the top restaurants, outdoor activities, beaches, sightseeing, and more. The ultimate coastal New England vacation awaits!
5 Best Things to Do in the Downtown Bath, Maine, Area
Go Shopping
Downtown Bath shopping is some of the best in Maine. You'll find a variety of stores ranging from upscale boutiques and jewelry shops to local specialty stores and antique shops. Check the business directory for a complete list of stores in Downtown Bath, Maine.
Savor Delicious Cuisine
After strolling the streets of Bath and browsing a few shops, head to one of the nearby restaurants serving delicious, local cuisine. With more than 25 restaurants to choose from, there's something for everyone in Bath.
Attend a Show
The Chocolate Church Arts Center has been mid-coast Maine's regional performing and visual arts center for more than 30 years. This cultural non-profit organization offers year-round entertainment in the form of live music, gallery exhibitions, theatre shows, and more. View the calendar to see upcoming shows and performances!
Explore a Top Museum
Ranked amongst the top museums in the world, the Maine Maritime Museum is located just outside of Downtown Bath and offers an abundance of ways to explore the region's maritime culture and past. See fascinating artifacts, interactive exhibits, a historic shipyard with original 19th-century buildings, and New England's largest sculpture – a replica of Wyoming, the biggest wooden sailing vessel ever built.
Enjoy the Outdoors
Located on the Kennebec River, Bath is an ideal spot for boating, fishing, swimming, and other water activities. Set out from one of Bath's two first-class boat launches and enjoy a day on the water. If activities on land are more your speed, the Bath area offers a number of wonderful hiking and biking trails where you can enjoy great views and see local wildlife. You'll also be just a short drive from some of the country's best beaches.
Where to Stay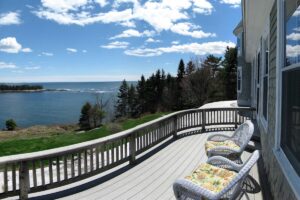 If you're planning a getaway to the Maine Coast, there's no better place to stay than Grey Havens Inn. Our charming seaside bed and breakfast in Georgetown is perched high on a bluff, offering panoramic views of the ocean. You'll be just minutes away from the best attractions in the area including fabulous restaurants, Reid State Park, and Downtown Bath, Maine, but you'll likely find it hard to leave our inviting B&B!
One of our guests' favorite rooms is The Sunrise Suite. Our most spacious room, the Sunrise Suite features a luxurious king-size bed, a private bath with a Jacuzzi tub, incredible views of the ocean and coastline, and a French door leading to your own private balcony. Enjoy complimentary breakfast, plush linens, fine bath amenities, and more. This is a true coastal retreat.
You can't go wrong with any of our guest rooms at Grey Havens Inn, so check the availability of all our accommodations now and book your stay today. We look forward to hosting you!