Are you newly engaged? Congratulations! You've likely begun the early stages of wedding planning. Putting together the details of your special day can be stressful, but it doesn't have to be. If you are ready to start planning your Maine wedding, read on to discover the possibilities at Grey Havens Inn. Afterward, if you would like to learn more about our oceanfront property, send us an inquiry. We are happy to answer any additional questions that you have.
Your Maine Wedding Planning Guide
The Venue
Set among the backdrop of the great Atlantic Ocean, Grey Havens Inn is a beautiful place to say, "I do". Built in 1904, our oceanfront property captures the essence of authentic old Maine. The ocean view from our magnificent, wrap-around, covered porch has been well-documented in numerous photo shoots, book covers, magazines, and calendars. Whether you are planning a large gathering or a small affair, walking down the aisle to our picturesque seascape is a sight that you and your guests will remember for years to come.
When you choose our inn, you will have full-reign of the property. This gives you, your loved one, and each guest an exclusivity and intimacy that can't be achieved anywhere else. To better visualize and learn more about the many special features of our property, see our wedding videos page.
The Restaurant
Food is one of the most important aspects of a wedding. Remember that a well-fed guest is a happy guest! Whether you are interested in a casual lobster bake, a sit-down dinner, or an upscale cocktail reception with heavy hors d'oeuvres, our onsite restaurant has everything you need to wow your guests. For inspiration on what to serve on your wedding day, view our menu options at Blue Restaurant.
Tips For Planning Your Wedding
Booking a venue is one of the most important steps in the planning process. Once you have set the date and the venue, it is easier to plan. These days, wedding venues book up quickly. Once you have chosen your season, we recommend booking your venue at least one year in advance.

Have fun, and don't overwhelm yourself with the details. At Grey Havens Inn, we have helped many couples plan their special day, just see our

testimonials

! Remember that we are here to help guide you every step of the way.

When you plan your oceanfront wedding, the coastal town of Georgetown will capture your heart and imagination. If you are looking for post wedding activities for you and your guests, simply

download our free Georgetown, Maine, Destination Guide

. It is full of recommendations on hiking trails, spas, wineries, and more.
Make Your Dream Wedding a Reality
Our innkeepers at Grey Havens Inn are here to make the wedding of your dreams a reality. From choosing a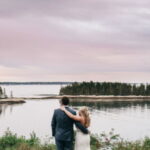 photographer to a DJ for the dance floor, we will ensure that you don't miss a thing. If you are ready to plan your Maine wedding, contact us today to learn more about our property and restaurant. Once again, congratulations! We can't wait to host you on your special day.