Chef Esau Crosby
---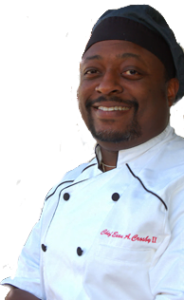 Chef Esau Crosby has lived in many places, and his cooking style reflects his confidence in using ingredients and recipes from various regions and cultures.  Growing up in a military household gave him the opportunity to travel, and what he has learned from his traveling experiences colors every meal at Georgetown, Maine's Blue Restaurant at Grey Havens Inn.
Chef Crosby developed an interest in cooking by watching both Julia Child on TV and his mother in the kitchen.  "Mom is a great cook, but she always kicked me out of the kitchen," laughs Crosby.  "I'd have to sneak back to watch."  Summer visits to his grandmother's kitchen in Louisiana further fueled his interest in cooking, eating and food.
Not content with just watching, Crosby worked his way up in kitchens by beginning with washing dishes, then quickly moving on to food preparation.  It is this drive to learn and create that motivates him to experiment and push the boundaries of his flavorful cuisine.
"I like to work with new ingredients, and if I haven't tried a technique or ingredient yet, I'm always on the lookout for a chance to work with it," he notes.  "There's always something new, and that challenge helps keep my approach fresh."
Chef Crosby attended culinary school in Boston, where he met his wife.  Hooked on New England, they decided to move to Maine in 1987.
His work in Maine includes time in the kitchens of several highly regarded restaurants.  The talented chef served as Head Chef at Bath's Solo Bistro for five years and as Sous Chef at nationally acclaimed Fore Street and Street and Company restaurants alongside Chef Sam Hayward, and as Chef at Falmouth Sea Grill.  Time at each of these restaurants reinforced the importance of securing the freshest local ingredients and helped him discover the network of local fishermen, farmers and gardeners in Maine who provide him with many of the quality ingredients he uses at Blue.
A signature mark of his preparations is his ability to bring out the flavor of each ingredient in a dish to create layers of flavor.  "Buying the best, freshest ingredients available and treating them with respect results in dishes that are both familiar and innovative at the same time," is his mantra.  "At the end of the day, it's about the food, not about the chef."
When he isn't in the kitchen, Chef Cros*by enjoys woodworking, leatherworking, gardening, studying history and spending time with his wife, son and daughter.
Make your reservation today by calling 855-473-9428!