Summer 2019 is here! Don't let another year pass you by where your hard-earned vacation days go to waste. If you haven't had time to plan your summer getaway, then no worries. Grey Havens Inn has you covered with the ultimate road trip guide from Boston to Georgetown, Maine. Read on to discover a unique route with plenty of beautiful stops along the way. Afterward, take a look at our vacation specials to make the most of your trip!
3 of the Best Stops from Boston to Georgetown, ME
1. Plum Island Beach, MA
If you're eager to get your vacation started right away, Plum Island is only one hour north of Boston via I-95 N. This beautiful barrier island is home to soft, sandy shorelines and a picturesque beach. Parking for beach access is available near the Parker River Wildlife Refuge. However, during peak season, there is often a wait. Wake up early to beat the crowds. A morning at this beach will leave you feeling refreshed and excited for what lies ahead on your road trip from Boston to Midcoast Maine!
From Plum Island, take I-95 N to Georgetown. The trip is only two hours!
2. Plymouth, NH
We know that many of our guests are eager to start the vacation early in the morning, and Plymouth, NH, is an excellent solution. This beautiful area is only 90 minutes away from Boston, via I-93 N. It is one of the gateways to the White Mountain National Forest, where you'll find countless waterfalls and hiking trails to explore. Pack a picnic basket and leave Boston in the early morning. You can wander these trails and relax until the early afternoon. Afterward, head straight to our coastal Maine inn for your late afternoon check-in!
After your mountain adventure, take ME-25 E to Georgetown; you are only three hours away! Plymouth is an excellent stop for a picnic on your way to Midcoast Maine or even on your drive home to Boston.
3. Portland, ME
Portland, ME, is another one of our favorite places to stop on the road from Boston to Georgetown. It is approximately two hours away from Boston, via I-95 N. Make a stop to stretch your legs and grab lunch. There are so many great lobster shacks and restaurants to try! Afterward, have some fun and do a bit of shopping downtown. When you're ready to check in, our Georgetown bed and breakfast is only one hour away, via I-95 N.
The Best Things to Do in Georgetown, ME
If you'd prefer to make your way straight to Georgetown, then we have you covered! Georgetown is only two and a half hours away from Boston, via I-95 N. You'll find a variety of ways to enjoy your time before check-in. One of the area's most popular activities is lounging at the beach at Reid State Park; this lovely beach is only five minutes away from Grey Havens Inn. We even have a special Heatwave Vacation Package that grants our guests discounted tickets to the park, so take advantage of it!
Remember to check out our Things to Do in Maine page for more recommendations on the best things to do in the area. You'll find recommendations on restaurants, events, activities, and more.
Enjoy the Best of Midcoast Maine at Grey Havens Inn
After a day of traveling up the coast, there isn't a better place to rest and relax than our boutique bed and breakfast.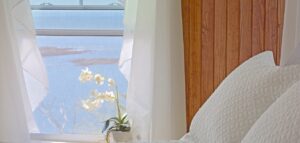 At Grey Havens Inn, we offer our guests an all-inclusive experience. When you book any of our waterfront rooms, like The Bay View Turret, you can always look forward to the best amenities, vacation specials, and top-notch service. Enjoy complimentary breakfast, exceptional dining with oceanfront views, luxury linens, and more. If you are ready to plan your trip, check our availability and take advantage of our summer specials! We can't wait to host you at Grey Havens Inn.