Things to Do Near Georgetown Maine
During your stay at Grey Havens Inn, take advantage of the many wonderful things to do in Georgetown, Maine! Our small town is regarded as one of the Maine Coast's best getaways. The area is full of natural coastal scenery with breathtaking rocky beaches surrounded by the Atlantic Ocean. Enjoy the scenery while you feast on lobster at our fabulous waterfront restaurants or even while taking a walk on the beach. Learn more about Maine's maritime history through local museums and picturesque lighthouses. You'll never fall short of things to do outdoors whether you love hiking, biking or fishing. From the local state parks that feature miles of gorgeous trails to the beaches with their rocky shores, a vacation spent exploring all the best things to do in Georgetown, Maine is one you'll remember for a lifetime.
---
Our Favorite Things to do in and near Georgetown, Maine
---
Visit a State Park
Get back to nature during your stay at Grey Havens Inn! There are some wonderful state parks just minutes from our quaint hotel. Explore miles of gorgeous shoreline, kayak some water trails, or go birdwatching. You're sure to have a great day exploring these beaches in Maine.
Reid State Park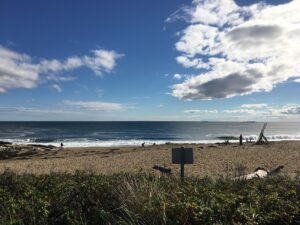 Reid State Park is just minutes from Grey Havens Inn and features one-and-a-half miles of beautiful beach. This is a great place for hiking or swimming during the summer.
Popham Beach State Park
Located about 30 minutes from Grey Havens Inn, Popham Beach State Park is the busiest state park beach in Maine! Rent a kayak or enjoy some quality birdwatching during your visit.
Pemaquid Beach State Park
Enjoy miles of beaches and the onsite nature center at Pemaquid Beach State Park!
---
Tour a Museum
Learn a little about Maine during your vacation! Whether you're a history buff interested in exploring our region's past or you're searching for your next favorite artist, these museums are worth the visit!
Maine Maritime Museum – Bath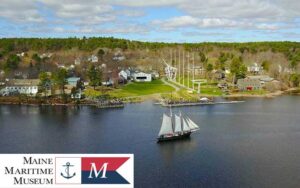 The Maine Maritime Museum explores the seafaring past of our beautiful state. This is an especially impressive museum, with plenty of frequently rotated exhibits that are sure to interest everyone in your party. Scenic boat tours of lighthouses are available from the museum!
Bowdoin College Museum of Art – Brunswick
The Bowdown College Museum of Art's collection is global in reach and transhistorical in scope with morethan 25,000 objects created over 5,000 years. Exhibitions change frequently and the museum is free to visit.
Farnsworth Museum – Rockland
With over 15,000 works and 20,000 square feet of gallery space, Farnsworth Museum celebrates Maine's art history. This museum features the work of three generations of the Wyeths, N.C., Andrew, and Jamie. The Farnsworth includes access to the Olsen House, a midcoast treasure, you'll know it from Andrew Wyeth's work, Christina's World, at a minimum.
Center for Maine Contemporary Art – Rockland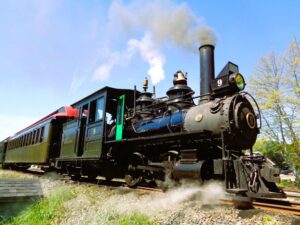 The Center for Maine Contemporary Art supports and exhibits art and artists with ties to Maine and is the the state's preeminent contemporary arts organization. Exhibitions change frequently. 
Hendricks Hill Museum – Southport
A popular historic site in the area, the Hendricks Hill Museum showcases life items from 1800 to 1950.
Wiscasset, Waterville, & Farmington Railway Museum – Alna
Experience local history and culture at this working narrow gauge railway. The WW&F Railway Museum hosts many events throughout the year. A must for the "foamer" in your family.
---
Enjoy the Great Outdoors
Puffins
You cannot visit Maine and not see the Puffins!  Check out our blog post for detailed information on the puffin action in the MidCoast.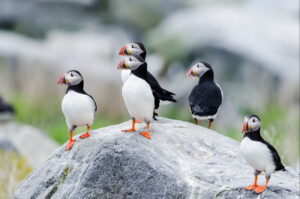 Hike the Local Trails
Georgetown offers great hiking through a variety of terrain. Climb a little mountain (ok, a hill!), wander the woods, get off-road, exclusive water views. Bring your shoes and have a blast. We have trail maps at the Inn. View online version of the town trail map.
Lighthouse & Nature Tours by Boat
The Maine Maritime Museum offers a variety of tours by boat of local lighthouses and natural resources. The tours are of varied length and area great way to see the local area.
Learn more about the Museum's boat tours.
Boothbay Whale Watch
Whale watching is a much-beloved activity in Maine! There's nothing quite like catching a glimpse of one of these majestic creatures. Check out Boothbay Whale Watch to schedule your excursion.
Boothbay Botanical Gardens
Tour the Boothbay Botanical Gardens! This attraction is open from April 15th – October 31st, and features sculptures, gardens, and exhibits!
Puffins
You cannot visit Maine and not see the Puffins!  Click on the link below for more information.
Read from the society of birders how to experience puffins!
---
Visit Local Breweries
MidCoast Maine has an abundance of excellent breweries crafting beers in a variety of styles. Taking a tour is a great way to spend an afternoon. Learn more about breweries and pubs close by.
---
Enjoy a Meal at BLUE
Experience fine-dining on the water during your stay! Our onsite waterfront restaurant and bar, BLUE, is the perfect place to end any day. Enjoy Chef Esau Crosby's innovative takes on North Atlantic cuisine. Every dish utilizes fresh and local ingredients. You've never had a Maine lobster until you've had it at Blue!
Are you ready to experience Georgetown, Maine? Take a look at our wonderful selection of rooms and book your stay today! We look forward to having you.
---