There are few outdoor activities quite as peaceful as gliding across the water on a kayak. Our area of Coastal Maine features a range of kayaking opportunities from open water adventures to guided harbor tours full of wildlife. If you're interested in kayaking during your vacation, grab a friend or loved one and set out on the water for a serene float filled with the smell of the ocean, nature's calmness, and scenic views. Here is where to kayak on the Maine Coast.
Along with kayaking on the Maine Coast, there are so many things to do in the area. Access our free Vacation Guide to discover our top recommendations on restaurants, shopping, outdoor activities, and more. This is the most comprehensive trip-planning guide in the area.
Where to Kayak on the Maine Coast & What You Need to Know
Where to Kayak
Our region of Coastal Maine is full of fabulous places to kayak for all experience levels. One of the most popular spots for sea kayaking is the Maine Island Trail, a network of water trails with more than 200 wild islands and Coastal mainland sites along the way. See Harbor seals basking in the sun, diving Ospreys catching fish, and soaring Bald Eagles overhead. For longer excursions, adventurous and seasoned kayakers can embark on open-water trips to Boothbay Harbor and Southport Island.
Kayak Rentals & Tours
learn about the many options for kayak, paddleboard, and boat rentals in the MidCoast here,
More Ways to Enjoy the Outdoors
There's more to do than just kayaking on Maine's Coast. If you can't spend enough time in the great outdoors, plan a trip to one of the area's best beaches. You can also take a look at our guide on the top Maine Coast attractions and things to do. You won't be short on ways to spend your time in our scenic coastal region.
Where to Stay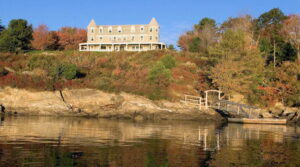 For an authentic Maine getaway with spectacular ocean views, stay with us at Grey Havens Inn. Perched high on a bluff along the Atlantic Coast, our historic Georgetown B&B features a selection of charming guest rooms from which you can choose.
Frequently referred to as a "castle-by-the-sea," our Inn is quiet and peaceful, but still near the best attractions, like Maine Coast kayaking. If you're traveling via sailboat, feel free to anchor offshore and join us for dinner at our onsite restaurant or for a cozy night's stay. Regardless of the occasion, your time at Grey Havens will including stunning views, luxurious amenities, and plenty of ways to indulge.
Check the availability of all our accommodations now and book your stay today. We look forward to hosting you on the ultimate Coastal Maine getaway.