If you are traveling to the Lobster State with your beau and flat out of ideas to sweep them off their feet, then Grey Havens Inn has you covered. Our coastline offers everything from serenity and seduction to excitement and exploration. Don't just plan a date night, reserve the whole weekend! Here is our exclusive list of ideas for your romantic getaway to Maine. For additional information on visiting Georgetown, Boothbay, and Bathe, check out our Things to Do in Maine page!
Plan Your Romantic Trip to Maine
Woo Your Beau With a Romantic Getaway to Maine
For the Foodie
Five Islands Lobster Co.
What would a trip to the Maine coast be without a fresh lobster dinner? Five Islands Lobster Co. offers guests lobsters, clams, and mussels caught straight from the water that the restaurant sits on. It doesn't get any more local than that! Five Island Lobster is located on an active fishing wharf near Sheepscot Bay and boasts an idyllic East Coast setting. Show up in your T-shirt, grab a seat at one of the picnic tables, and soak in what Maine is all about.
Blue at Grey Havens Inn
If you are looking to take your dinner date to the next level, cast your sails for Blue at Grey Havens Inn. Make your way to our inn and restaurant from the Town of Boothbay Harbor. Our property features a mooring that sailboats can tie to. We also have a deep water dock that is 17-feet deep at low tide where boats 36-feet or less can tie up!
At our restaurant, Chef Crosby caters a palate tour of coastal Maine with choices such as oven-roasted local white fish and grilled porterhouse center-cut pork chops. Don't forget to leave room for one of our decadent desserts! After all, the way to someone's heart is always through their stomach. Take advantage of our Stay & Dine Package for the ultimate culinary escape.
Salt Pine Social
Not many places are able to blend down-home feel with world-class food, but Salt Pine Social does it flawlessly. This family-owned establishment showcases creative dishes and local style. Grab one of their house-crafted cocktails and a few small plates and settle in for a while. The restaurant's "eat well, drink well" concept shines brightly inside their eco-friendly walls. Don't let your foodie-loving mate pass this one up during your trip to Georgetown!
For the Nature Lover
Hike Through Reid State Park
Reid State Park is renowned for its picturesque beachline and rare sand dunes. There are two miles of trails for hiking enthusiasts. The driftwood-covered shorelines allow the perfect opportunity for a Sweet Home Alabama, "What do you want to marry me for?" moment. This coastal park is the perfect solution for an inexpensive yet romantic Maine getaway. Reid State Park is five minutes away from Grey Havens Inn, and a park pass is included with your stay when you book the Heatwave Special .  
Paddle Out with Seaspray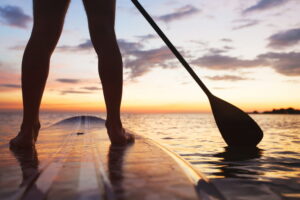 Kayaking off of Maine's coast is exciting, and Seaspray will up your adventure game with their moonlight and sunset paddle tours. Watching the sun go down over the bow of your kayak is an experience you and your partner will not forget. Sprinkle in visitors from Maine's diverse marine life and you are in for a one-of-a-kind adventure on the Atlantic.
Go Whale Watching
New England's coast affords some of the best whale watching spots in the world, and Cap'n Fish's Whale Watch puts guests in the middle of it all. While aboard, you'll tour around the coast's famous lighthouses, buzz by lobstermen at work, and, finally, witness some of Mother Nature's most powerful animals in their natural habitat. If you are looking for another fun wildlife viewing adventure, try a puffin cruise afterward!
For a Night on the Town
Get a Flight at Bath Brewing Company
Overlooking the Kennebec River, Bath Brewing Company prides itself in brews, bites, and backdrops. The romantic harbor-view bar provides a large rooftop deck during seasonal months along with daily happy hour specials. Get an order of lobster fritters and a Bath Pale Ale and enjoy a relaxing night downtown!
Toast at Sweetgrass Winery & Distillery
This artistically crafted, industrial tasting room designs leading wines and spirits in Midcoast Maine. Sweetgrass offers a premier farm-to-sill experience — the distillery uses locally grown fruits and grains exclusively. Wrap up a bottle of cranberry gin and pick up some seltzer water for a tasty nightcap back at the room.
For the Hopeless Romantics
Sail Away With Bufflehead Sailing Charters
What's more romantic than gently cruising through the sea with the wind in your sail? Bufflehead Sailing Charters takes their guests aboard a nostalgic, 32-foot wooden vessel. The charter offers an array of options from sunset sails to lobster bakes. Captain Daniel Bennett has been sailing the East Coast since he was a teenager, so he is sure to show you all of the best spots near Rockland.
Unwind at Sea Glass Spa
Want to guarantee a spot on her good side? Enjoy a facial treatment at Sea Glass Spa. Indulge in a relaxing Drift Away facial or detoxify with the deep cleansing facial. Don't worry, gentlemen: there's a Maine Woods facial designed just for you, inspired by the hardy forests of Maine. This Boothbay shop also features several Maine-made soaps and candles.
Stay at Grey Havens Inn!
Don't let your trip end when the shops close. Complete your romantic getaway in Maine with a stay at Grey Havens Inn!
Reserve our Sunrise Suite for panoramic views of our beautiful coastline. Sailing in? Tie up at Grey Havens' private mooring. Whatever your needs, Grey Havens is here to assist. Start planning your visit today!