There is no place in the world like Midcoast Maine! Fresh-caught lobster, beautiful Atlantic Ocean views, and rich maritime history are only the beginning. If you are daydreaming of your next Midcoast Maine vacation, then read on to discover five of the best things to do in Boothbay Harbor. Afterward, make planning your next getaway as easy as falling in love with the help of our Things to Do in Maine page. Get yours for recommendations on restaurants, art galleries, boat tours, and more.
The Best Things to Do in Boothbay Harbor
Enjoy the Greatest Wildlife Viewing Opportunities
Midcoast Maine is home to some of the most stunning wildlife viewing opportunities in the United States. Whale and puffin watching season begins in April, and the best way to catch a glimpse of these beautiful seasonal visitors is on a guided boat tour.
Of course, no list of Maine wildlife is complete without harbor seals! These famous residents make their homes in many places on the state's coast. If you would like to get a closer look at these stunning animals, then we recommend Tidal Transit Kayak. No experience is necessary.
Get a Taste of Maine's Craft Beer Scene
After a sun-soaked day on the water, there are few things more refreshing than a cold, craft beer from a local Maine brewery. The Maine Beer Trail features 80 breweries, and you'll find a handful of them near Boothbay Harbor. Among the area's nearby breweries include Boothbay Craft Brewery, Footbridge Brewery, and Oxbow Brewing. Cheers!
Indulge & Eat Like the Locals
Dining is one of the most important parts of any vacation, and there is a restaurant in Boothbay Harbor for every occasion. For a casual dining experience, grab a lobster roll at Karen's Hideaway. If you are searching for an upscale dining experience, then make a reservation at Ports of Italy: this traditional Italian restaurant prides itself on an extensive wine menu and dishes made from only the freshest local ingredients.
For more recommendations on the area's top restaurants, remember to check out our Things to Do In Maine page.
Cruise to Cabbage Island for a Clambake
Cabbage Island Clambakes is a one-of-a-kind summer tradition. If you are unfamiliar with Cabbage Island, it is a small private island located off the coast of Maine; the island is only accessible by boat. To make your way to the island, you will go aboard the Bennie Alice in Boothbay Harbor. Trips to the island are available seven days a week from the end of June through Labor Day weekend, but the cruise itself is only the beginning!
Once you arrive on the island, visitors are treated with a traditional clambake on the water's edge. You can look forward to a hearty meal of fish chowder, lobster, potatoes and onion, corn on the cob, and the best blueberry cake in Maine.
Take a Stroll on the Famous Footbridge
No list of things to do in Boothbay Harbor is complete without the Boothbay Footbridge. This historic bridge was built in 1901 and connects the east and west sides of Boothbay Harbor. Take in the spectacular views, and remember to take your time to explore the shops and places to eat at either side of the bridge. One of our favorite stops to make is Wannawaf, a wonderful ice cream parlor with hot Belgian waffles topped with Maine ice cream.
Stay Near It All at Grey Havens Inn
For an authentic "Old Maine" experience, look no further than Grey Havens Inn. Our historic bed and breakfast is situated along the rocky Atlantic coast, featuring breathtaking ocean views and proximity to the area's top attractions.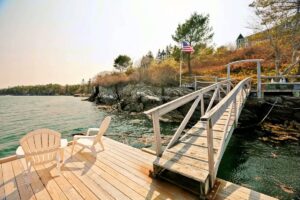 You will love the comfort and convenience of our inn. Our award-winning restaurant, "Blue," means you'll never need to worry about where to have dinner, and complimentary breakfast is always included in your stay.
Our bed and breakfast is on the tranquil shores of Harmon's Harbor in Georgetown. We are only 45 minutes from Boothbay and 20 minutes away from downtown Bath. If you are ready to plan your getaway, check our current specials and book your stay! We can't wait to host you at Grey Havens Inn.