Fall is upon us, and there's nothing like a good ghost story to get you in the Halloween spirit. Are you ready to discover four of the most haunted places in Maine? Read on if you dare! We've also listed the distances between these sites and our historic Georgetown bed and breakfast. If things get a little too spooky, remember to check out our Things to Do in Maine page for an all-encompassing list of exciting activities to check out while you're visiting the area.
4 of the Most Haunted Places in Maine
1. Fort William Henry | Pemaquid Beach | 55 Minutes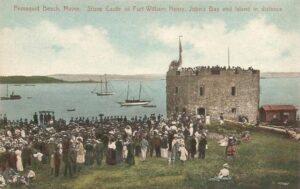 Fort William Henry was built in 1692 as the English fortified the frontiers of the Massachusetts colony. The fort's construction was extraordinary, housing nearly 20 cannons and 60 soldiers. However, the fort's splendor was short-lived. Before the area's
colonization, the land was home to many Native Americans. Tension continued
between Native American people and the colonists. Tragically, in 1696, Native American Chief Taukolexis was hung by the fort. Local legend has it that he haunts the historic site to this day.
2. Wood Island Lighthouse | Saco Bay |
1 Hour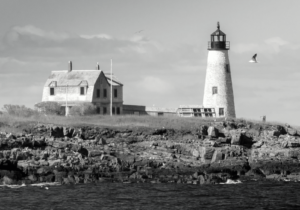 Woodland Lighthouse has its fair share of reported supernatural activities. In fact, the hit television show, Ghost Hunters, featured the lighthouse on a paranormal investigation. It all began in 1896 when Howard Hobbs, a tenant of Wood Island, was confronted by his landlord, Frederick Milliken. Milliken told Hobbs that the rent was overdue, and that is when the tra
gedy unfolded. To this day, it is said that if you stand quietly, you can still hear the footsteps of Milliken and Hobbs.
3. Museums of Old York | Old York | 90 Minutes
Old York is one of the earliest and most beautifully preserved English settlements in the country. There are few better places to explore Maine's history and heritage. However, visitors of this historic attraction have reported paranormal activity. With legends of prisoners, sea captains, witches, and families, the stories here are limited only by your imagination. One of the most popular stories took place during the days of witch-hunting. People have reported doors opening on their own, cold spots, and even seeing the figure of a woman who walks down the street alone. She is known as "The White Witch." Allegedly, children from the nearby preschool have reported that the witch is friendly, sometimes visiting during recess to come play. 
4. Mount Hope Cemetery | Bangor |
2 Hours
If you are a Stephen King fan, then  Mount Hope Cemetery should be at the top of your list of places to visit. Here, you'll find the haunted house and cemetery that were in the film, Pet Sematary. If reliving this film wasn't already ghastly enough, the cemetery is also where you'll find the resting place of the infamous gangster, Al Brady; some say that his ghost haunts the cemetery.
Run Back to Grey Havens Inn
If these haunted places in Maine give you goosebumps, then run back to Grey Havens Inn for some comfort and peace of mind.
Our historic bed and breakfast is situated along the rocky Atlantic coast, featuring breathtaking ocean views and proximity to Midcoast Maine's top attractions. We are only a five-minute boat ride away from Boothbay and a 20-minute drive from downtown Bath.
When you book any of our lovely rooms, like The Breakers, you can always look forward to the best amenities, vacation specials, and spectacular service. Complimentary, continental breakfast at our signature restaurant, "Blue," is always included in your stay. If you are ready to plan your fall getaway, remember your free vacation guide. Happy Halloween from Grey Havens Inn!